Upcoming Workshops
Washing, DC :: February 25th
Triangle Coalition's
Einstein Fellowship
brings talented STEM educators from across the country to the NSF, NOAA, NASA and DOE to help shape the national education sector. We're honored to partner with Triangle to offer a Bootstrap workshop to their incredible teachers!
New York City, NY :: February 27th-28th
We are excited to announce a NYC workshop in conjunction with
CS:NYC
. The two day workshop will be held Friday, February 27 and Saturday February 28 at the Center for Social Innovation (
601 W. 26th Street, NY, NY
).The workshop is
free
for NYC public school teachers. For others, the workshop fee is $350. Participants will recieve 16 hours of professional developent, curricular materials, lunch, and a light breakfast on both days. Please fill out a
teacher application
and ask your administrator to complete a
support application
by January 31st if you would like to attend.
Los Angeles, CA :: February 27th
We're running a half-day "
micro-workshop
" for Los Angeles County Office of Education (LACOE), as part of their Digital Educator Day. Enrollment is limited to 25 teachers, and you must be a Los Angeles educator and enrolled in the conference to attend.
Schedule a Workshop for Your District
If you would like to bring Bootstrap to your school district, have your Math, STEM or Technology coordinator fill out our
workshop request form
.
In a Bootstrap workshop, you will...
See the curriculum in action
Explore the research
Investigate the cognitive challenges for students struggling with Algebra
Be a student for a day, and see the lessons taught by a master teacher
Earn PD credits while doing it!
In a Bootstrap workshop you'll work with your peers to discuss classroom experiences, and spend the day in your students' shoes. You'll have a chance to try activities from every single Bootstrap class. You'll be able to debrief with other teachers, talk pedagogy with the trainers, and try out the materials and software firsthand. And finally, you'll go home with a videogame that
you
created.
Research Based
Explore the foundations of Algebra, why it differs from arithmetic, and what experts in the field believe are necessary to help your students make the transition. In a Bootstrap workshop, you'll have a chance to sample some of the current research being done in algebra and computer science education, and apply that to your own classrooms. Arm yourself with the tools to advocate for Bootstrap in your school or school district.
What teachers are saying...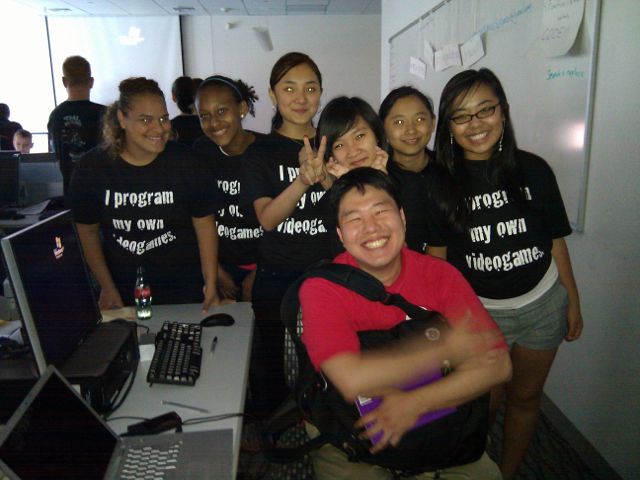 "I was lucky enough to attend the workshop in Chicago. What a WONDERFUL USEFUL PD day -- the first one in a long while to get me excited about teaching Algebra for the 20th year. If you do come back -- I would love to know about it."
-- Aimee Smith, Chicago Public Schools "I loved the HANDS-On approach! Getting the computer into my hands and actually doing the programming was so important to me." "Thank you for the wonderful learning experience surrounding the Bootstrap Program. It was a fantastic demonstration of how our teachers can teach algebraic concepts within a real-world application that is personally significant to many of our students. There were so many wonderful things that teachers had to say about their experience."
-- Julie Staton, Lake County Public Schools "Amazing! Best math workshop I've ever attended! I can't wait to use this with our students."
-- Dana Kirby, Anne Arundel Public Schools "I wanted to tell you what a great PD you presented. It was probably the very best I've been a part of (and I've been to lots!). I can very clearly see how I could implement this with my students. I can't wait to see if I can get them engaged a little more than usual and have them making connections a little more deeply than usual."
-- Carol Mann, Ceiba College Prep Middle School
PD Credit
Depending on your district and the workshop being offered, you may be eligible to receive professional development credits for your participation, or even compensation for qualified attendees.
Previous Workshops
New York City :: Oct 24-25th, 2014
New York City :: August 22-23rd, 2014 Charles County, MD :: July 21st-22nd, 2014
Holyoke, MA :: August 4th-5th, 2014
Chicago, IL :: August 11th-12th, 2014
New York City, NYC :: August 20th-21st, 2014
Chicago, IL :: June 23th-24th, 2014
Waltham, MA :: June 25th-27th, 2014
San Francisco, CA :: June 19th-20th
Ft. Lauderdale, FL :: June 9th-10th
San Francisco, CA :: May 17th, 2014
Anne Arundel, MD :: August 8th, 2013
Miami, FL :: July 23rd-24th, 2013
Boston, MA :: July 17th, 2013
Providence, RI :: June 24th, 2013
Anne Arundel, MD :: April 12th, 2013
Oneonta, NY :: March 9th, 2013
Fairfax, VA :: October 20th, 2012
Seattle, WA :: August 10th, 2012
Irvine, CA :: July 9th, 2012
Palo Alto, CA :: June 16th, 2012
Washington, DC :: June 9th, 2012
Boulder, CO :: April 21st, 2012 Chicago, IL :: April 13th, 2012 Anne Arundel, MD :: April 11th, 2012 Napa, CA :: March 18th, 2012 Austin, TX :: February 25th, 2012 Houston, TX :: November 11th, 2011