Workshops
To be notified about upcoming workshops, you can follow us on Facebook, Twitter, or Google+.
Districts and Sponsors: Bring a Bootstrap Workshop to your area! Teachers: Apply for funding from TeachCS.org to attend a Bootstrap workshop, or apply for matching grants from the Infosys Foundation!
---
Swarthmore, PA :: November 10-12th
We're delighted to announce a partnership with
The Math Forum
and the
National Council of Teachers of Mathematics
, to bring a Bootstrap workshop to educators in Eastern Pennsylvania. This is an
open-enrollment
workshop, and anyone is free to attend. Registration is
$50
, and includes all training and materials costs, as well as coffee and a catered lunch all three days. In addition,
participants will receive an Act 48 credit
, provided by Bryn Mawr/Haverford Education Program! We are grateful to the
Department of Educational Studies
at
Swarthmore College
for hosting us.
Apply now to reserve your seat!
Conference and Presentations
You can also find us at a number of events throughout the year, including:
Miami, FL :: October 18th We're attending the LeadCS Conference to talk about scalable, sustainable and equitable curricular offerings in Computer Science.
Brookline, MA :: November 19th We'll be talking about math education and universal Computer Science Education at TEDxBeaconStreet. Tickets are absolutely free, and you can register on the event homepage.
San Antonio, TX :: April 5-8 Bootstrap co-director Emmanuel Schanzer will be presenting our work at the 2017 NCTM Annual Meeting and Exposition.
Duluth, MN :: April 29-30 We'll be presenting at the Minnesota Council of Teachers of Mathematics, sharing our research and unique approach to teaching algebra using functional programming.
In a Bootstrap Workshop, you will...
See the curriculum in action
Explore the research
Investigate the cognitive challenges for students struggling with Algebra
Be a student for a day, and see the lessons taught by a master teacher
Earn PD credits while doing it!
In a Bootstrap workshop you'll work with your peers to discuss classroom experiences, and spend the day in your students' shoes. You'll have a chance to try activities from every single Bootstrap class. You'll be able to debrief with other teachers, talk pedagogy with the trainers, and try out the materials and software firsthand. And finally, you'll go home with a videogame that
you
created.
PD Credit
Depending on your district and the workshop being offered, you may be eligible to receive professional development credits for your participation, or even
compensation
for qualified attendees.
Massachusetts Teachers Bootstrap is a registered PDP (Professional Development Point) provider in the state of Massachusetts, for both math and science and technology teachers. Your time spent in a Bootstrap workshop will count towards your PDPs - just make sure you recieve our certificate at the end of the training.
Texas Teachers Bootstrap is a registered CPE (Continuing Professional Education) provider in the state of Texas. You will recieve a certificate at the end of the training that includes our CPE provider number, which you can submit to TEA at the end of each year to recieve your CPE credits.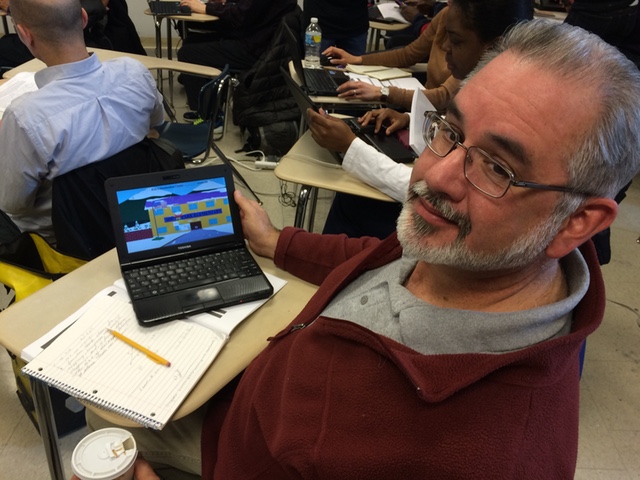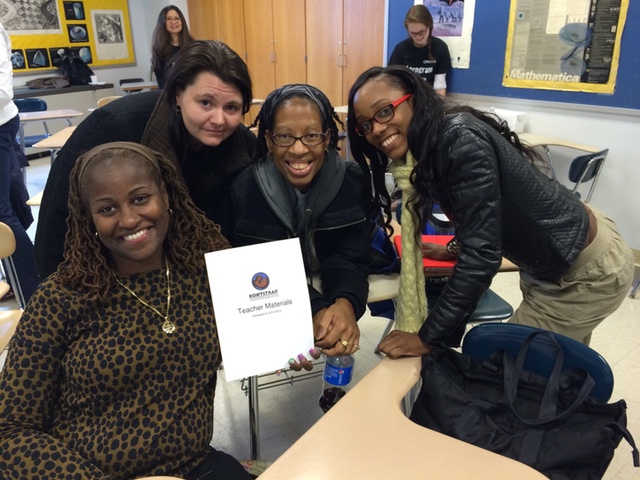 Previous Workshops
Los Angeles, CA :: August 10-12th, 2016
Chicago, IL :: August 3-5th, 2016
New York, NY :: August 1-5th, 2016
Denver, CO :: July 18-22nd, 2016 (CSPdWeek!)
New York City, NY :: July 12-14th, 2016
Providence, RI :: June 27-29th, 2016
Houston, TX :: June 27-28th, 2016
Los Angeles, CA :: June 20-22nd, 2016
Dallas, TX :: May 14, 16 & 17th, 2016
New York City, NY :: April 26-28th, 2016
Everett, WA :: April 18-19th, 2016
Sunnyvale, CA :: March 17-19th, 2016
Minneapolis-St. Paul, MN :: February 23-25th, 2016
New York, NY :: January 8-9th, 2016
Cleveland, OH :: October 26th-27th, 2015
San Jose, CA :: September 17-19, 2015
Minnetonka, MN :: August 26-27, 2015
New York, NY :: August 19th-21st, 2015
New York, NY :: August 17th-18th, 2015
Framingham, MA :: August 10-12th, 2015
Philadelphia, PA :: August 5-7th, 2015
Austin, TX :: July 20th-22nd, 2015
Pasadena, CA :: June 15th-16th, 2015
New York City, NY :: April 7th-9th, 2015
New York City, NY :: February 27th-28th, 2015
Waltham, MA :: February 16th-18th, 2015
Charles County, MD :: July 21st-22nd, 2014
Holyoke, MA :: August 4th-5th, 2014
Chicago, IL :: August 11th-12th, 2014
New York City, NY :: August 20th-21st, 2014
Chicago, IL :: June 23th-24th, 2014
Waltham, MA :: June 25th-27th, 2014
San Francisco, CA :: June 19th-20th, 2014
Ft. Lauderdale, FL :: June 9th-10th, 2014
San Francisco, CA :: May 17th, 2014
Anne Arundel, MD :: August 8th, 2013
Miami, FL :: July 23rd-24th, 2013
Boston, MA :: July 17th, 2013
Providence, RI :: June 24th, 2013
Anne Arundel, MD :: April 12th, 2013
Oneonta, NY :: March 9th, 2013
Fairfax, VA :: October 20th, 2012
Seattle, WA :: August 10th, 2012
Irvine, CA :: July 9th, 2012
Palo Alto, CA :: June 16th, 2012
Washington, DC :: June 9th, 2012
Boulder, CO :: April 21st, 2012
Chicago, IL :: April 13th, 2012
Anne Arundel, MD :: April 11th, 2012
Napa, CA :: March 18th, 2012
Austin, TX :: February 25th, 2012
Houston, TX :: November 11th, 2011
Reviews
"It's a completely contained, self-differentiating, modular set of lessons that you can use to fit your needs. There's a low floor, no ceiling, and the potential for higher-order thinking is very high."
"I was lucky enough to attend the workshop in Chicago. What a WONDERFUL USEFUL PD day -- the first one in a long while to get me excited about teaching Algebra for the 20th year. If you do come back -- I would love to know about it."
-- Aimee Smith, Chicago Public Schools
"Bootstrap is groundbreaking in terms of meaningfully integrating CS into core subjects (in this case algebra) and packaging it in a way that is immediately accessible and understandable to students and teachers. I feel like this program is a benchmark to strive for when it comes to finding ways to integrate programming principles in schools, and was delighted by the emphasis on the importance of integrating math/programming as a means of equity. Teachers with whom I work routinely ask for programming resources that are tied to core subjects and Bootstrap is nailing that connection."
"I loved the HANDS-On approach! Getting the computer into my hands and actually doing the programming was so important to me."
"Thank you for the wonderful learning experience surrounding the Bootstrap Program. It was a fantastic demonstration of how our teachers can teach algebraic concepts within a real-world application that is personally significant to many of our students. There were so many wonderful things that teachers had to say about their experience."
-- Julie Staton, Lake County Public Schools
"Amazing! Best math workshop I've ever attended! I can't wait to use this with our students."
-- Dana Kirby, Anne Arundel Public Schools
"I wanted to tell you what a great PD you presented. It was probably the very best I've been a part of (and I've been to lots!). I can very clearly see how I could implement this with my students. I can't wait to see if I can get them engaged a little more than usual and have them making connections a little more deeply than usual."
-- Carol Mann, Ceiba College Prep Middle School